Connecting your financial systems provides investors with an accurate view of your business and can speed up the time to funding.
By connecting business systems, such as Shopify, you make it faster and easier for investors to make a decision about financing your company. To learn more about the benefits connecting your business systems to Hum Capital's Intelligent Capital Market (ICM), visit this article. Follow these steps to create your Shopify data connection to the Hum ICM.
Step 1) Begin by logging into Shopify and click "Apps and sales channels" on the left-hand menu. Then click "Develop apps for your store" on the bottom of screen

Step 2) Next press Allow Custom App Development (x2)




Step 3) Press the green button titled "Create an app"




Step 4) Name new app and ensure you have selected an available user from your organization. Press the green button titled "Create App"





Step 5) Next click on "Configure Admin API scopes"





Step 6) Navigate to the "Orders" section and grant permissions to read orders. You do this by checking "read_orders." Now save your changes
Step 7) Next, go back to the top of the screen and go to the "API credentials tab." Navigate to "Access tokens" and click on the green button named "Install app."



Step 8) Save this access token. It will be used for connection.





Step 9) Copy url from your browser.
Step 10) Return to the Hum Capital ICM. On the right- hand side of the Connectors interface, it will ask you for the token you have just saved and the Example URL you have just copied. Paste the url and access token you saved into their respective fields.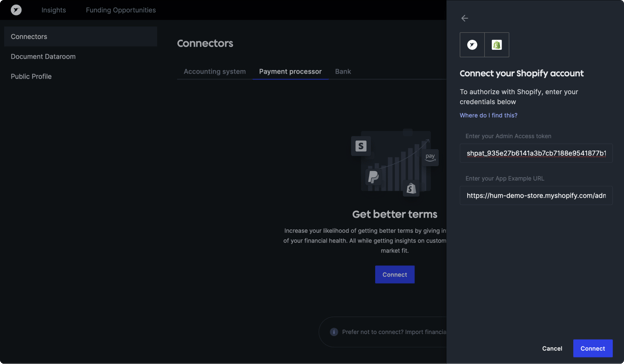 Your data connection to Shopify should now be ready within your Hum ICM account. If you have any further questions or need any further assistance, please reach out to support@humcapital.com