Discover how much
you can raise with
Hum Capital
Hum Capital helps companies like yours analyze their performance data to understand their financing options, all through our funding platform, the Intelligent Capital Market.



You could receive debt financing up
has raised
Latest equity round
Capital raised through the sale of shares.
in the latest equity round and currently
Total debt outstanding
Your company's total liabilities such as loans, accounts payable, and credit.
of outstanding debt.
Our annualized revenue is
Annualized revenue
Total amount of revenue your company made in the last 12 months.
,
of
Annualized EBITDA
Your company's earnings before interest, taxes, depreciation, and amortization (EBITDA) from the last 12 months.
.
Our receivables are
Receivables
Goods or services that have been delivered or provided by your company but not yet paid for.
and
inventory is
Inventory
Raw materials used in production and goods produced by your company that are available for sale.
.
Unlock your results and get your business humming
You could receive debt financing
To get a more detailed assessment of the potential capital your company could raise, sign up for a free Hum account and connect your financial data for analysis.
*Hum uses your best performing metric to estimate your funding opportunity. This information above does not purport to be all-inclusive or to contain all material information; the information is provided for illustrative purposes only.
Turn your data into a robust picture of your business
Hum's ICM allows you to connect your financial and accounting software to the platform to generate key performance analytics to find the best way to fund your growth.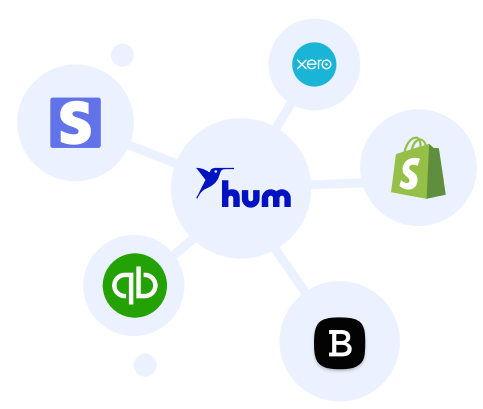 Analytics to fuel your growth